Contact and Hours
Welcome to the Missouri State
University Bookstore
All are welcome to visit us during store hours, but please be aware wait times might increase due to limited amount of staff and guests allowed in store. Restrooms and Dressing Rooms in the Bookstore are closed to the public. Shields, hand sanitizer, and social distancing markers have been placed at all registers. To protect our Bears, we ask that you please mask inside of the store, and please shop with us online if you are not feeling well.
Thank you for your patience and understanding, and thank you for supporting the Bookstore.
To keep up to date with Bookstore updates and sales, follow us on Twitter, Facebook, Instagram, or join our newsletter
In-Store Pick Up Hours
Online Orders can be picked up In-Store during store hours.
Phone
Office: 417-836-5403
Fax: 417-836-6876
Email
Online Orders & Returns
Location and Hours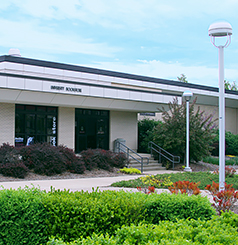 Mailing Address
Missouri State University Bookstore
901 S. National Ave.
Springfield, MO 65897
Shipping Address
Missouri State University Bookstore
717 S. Florence Ave.
Springfield, MO 65807
November Hours
Showcase Extended hours 11/21/2020: 10 a.m. - 4 p.m.
Regular Hours:
Mon-Th: 8a.m.-6p.m.
Fri: 8a.m.-5p.m.
Saturday: Noon-4p.m.
Sunday: CLOSED
The Bookstore will be closed November 25-29th for Fall Break. All orders made over the break will be processed Monday, November 30th.
Use the form below to send us a message: